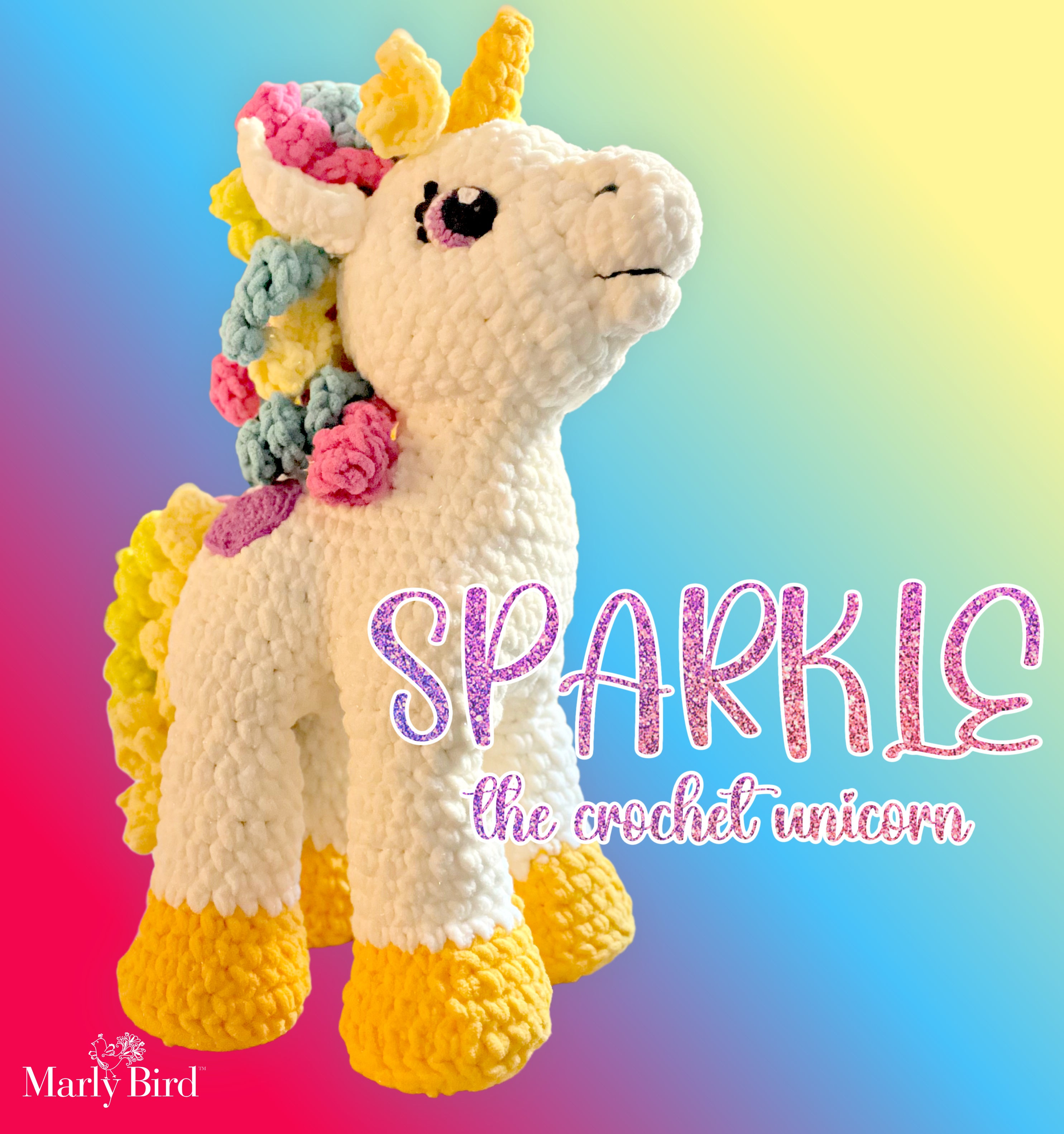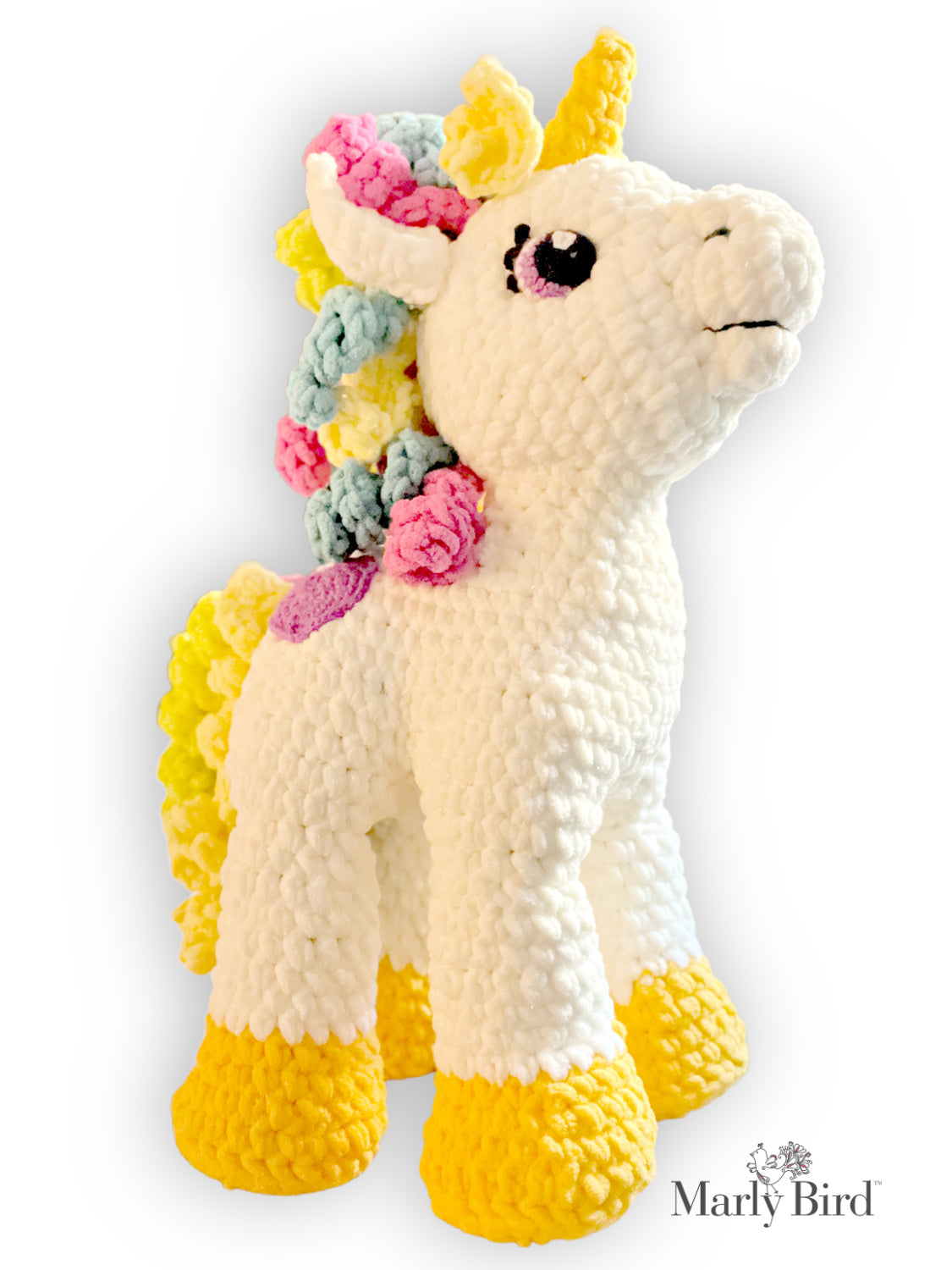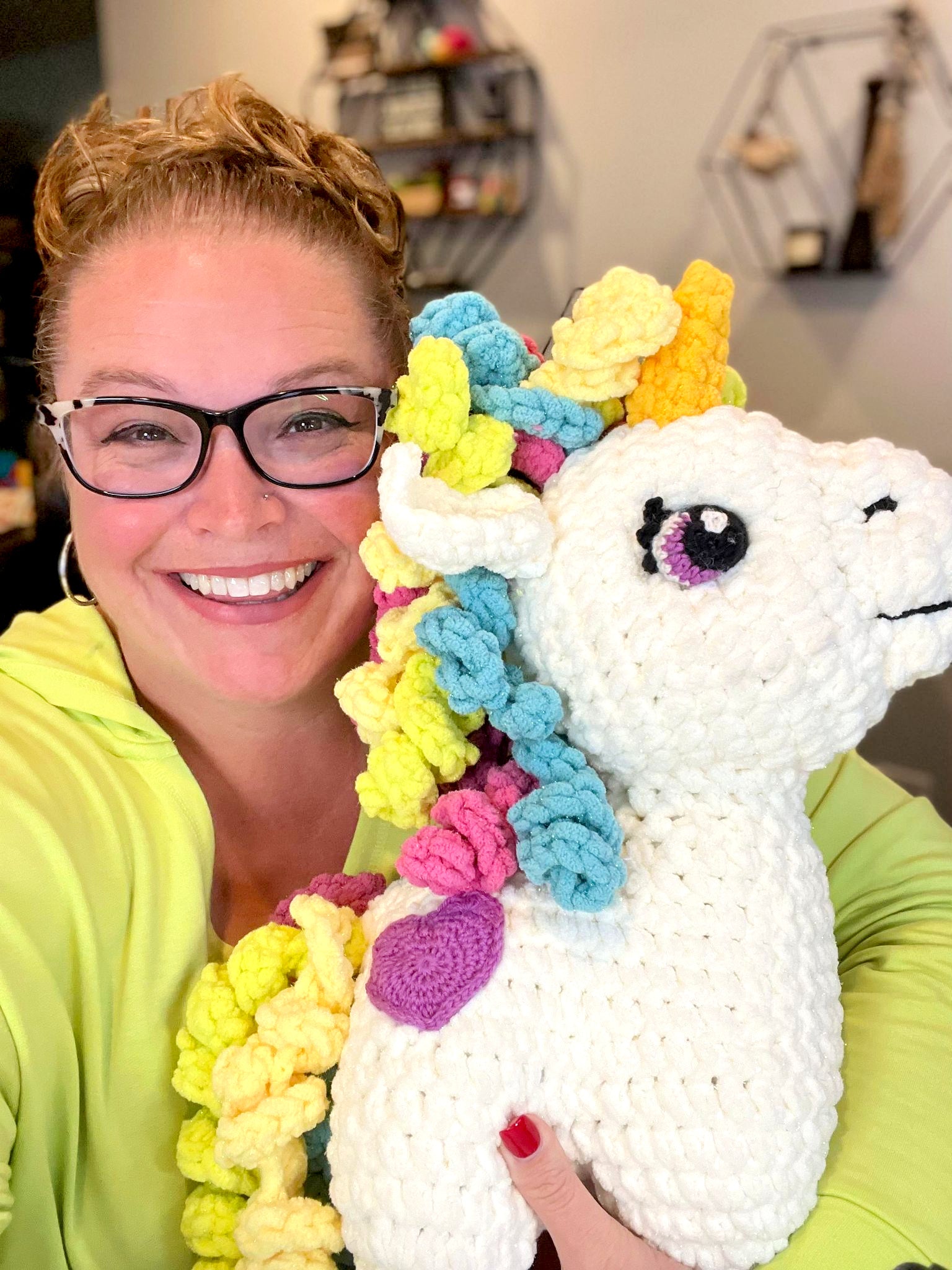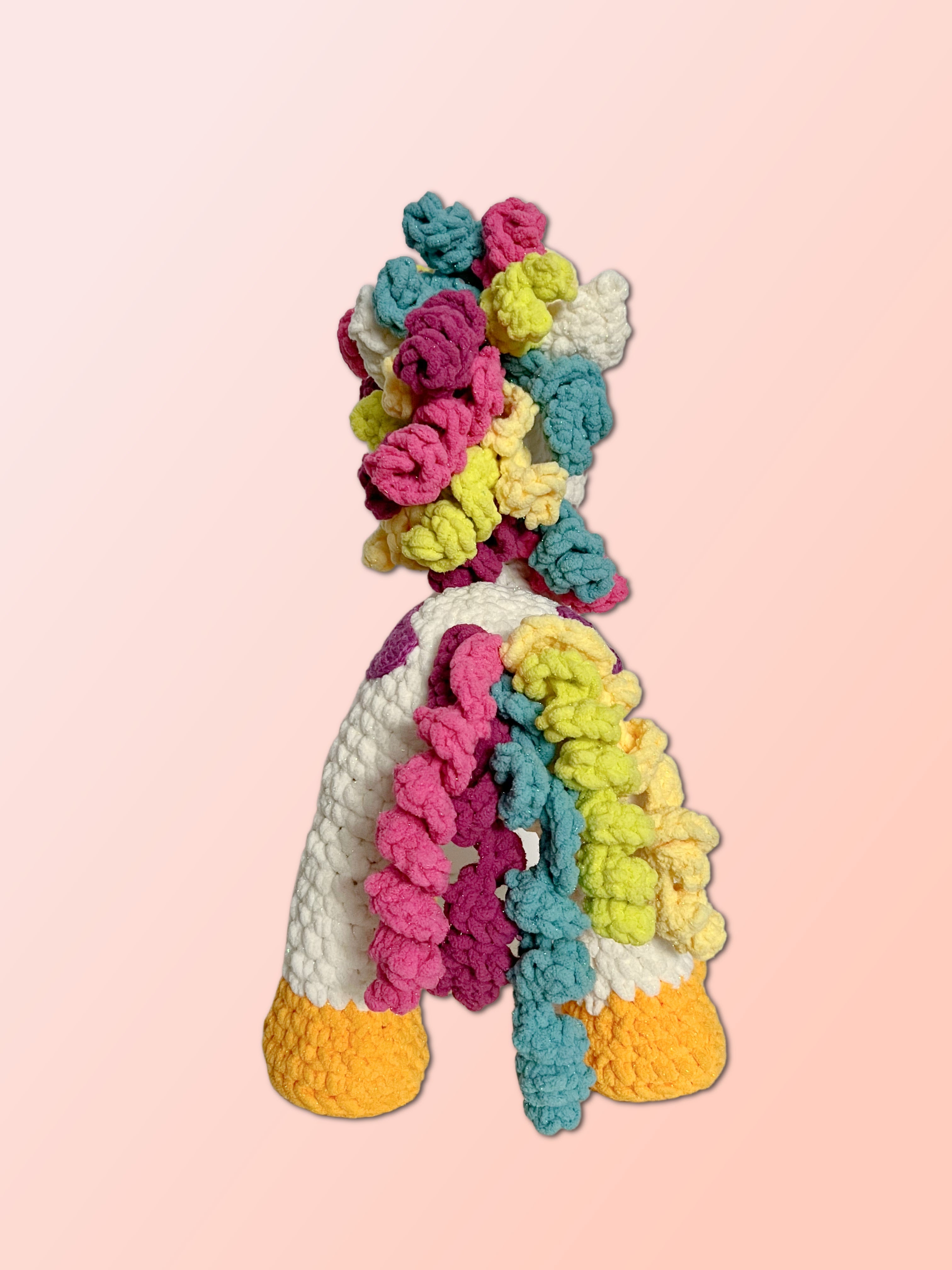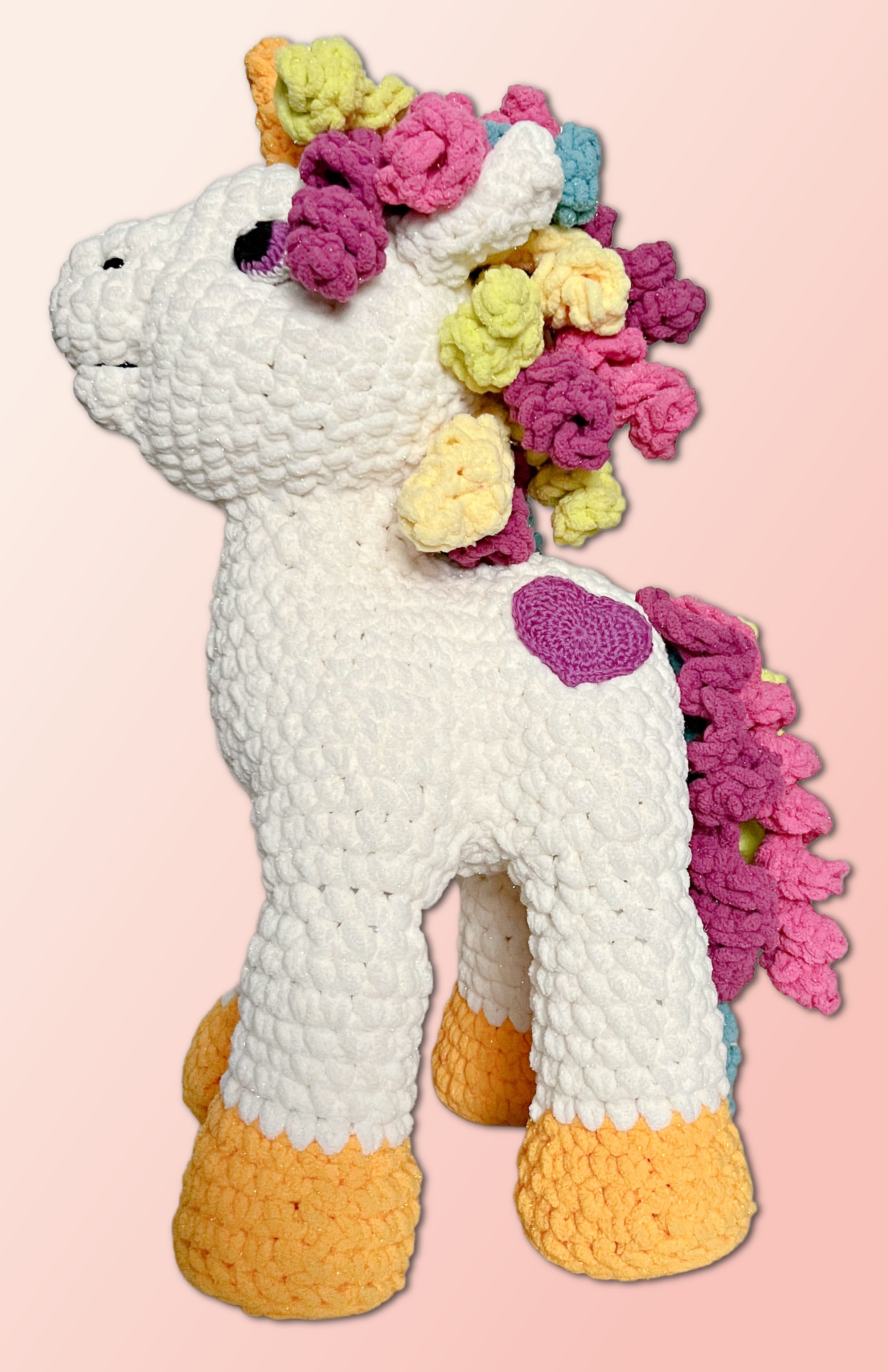 Crochet • Advanced Beginner
Sparkle Crochet Unicorn Amigurumi
Welcome to the enchanting world of Sparkle the Crochet Unicorn Amigurumi! Created by the esteemed animator and designer, Megan Kreiner, this pattern brings whimsical fairy tale magic to life with a one-of-a-kind amigurumi design.
Featuring graceful curves, a curly mane, and a sparkle in her eye, Sparkle is sure to be a favorite of any craft enthusiast.
Crocheters from all levels of experience can enjoy the detailed instructions for creating this stunning piece. Perfect for those looking to elevate their crochet skills or wanting to make a special gift that will be cherished for years to come! So dive deep into your creative spirit and join us in making Sparkle the Unicorn Amigurumi - your new crafting companion!

❣️THIS IS A DIGITAL PDF PATTERN, NOT A FINISHED PRODUCT❣️
✨ 
This is an ad-free pdf of a free pattern on the website
 ✨
Difficulty: Advanced Beginner
Gauge:
7 sc x 8 rounds = 4" [10 cm] x 4" [10 cm]
Helpful Resources:
Picture Tutorials
,
Video Tutorials
Needle Size: 9.0 mm, 3.75 mm
Project Categories: Amigurumi
Project Subcategories: Stuffie - Toy
Technique: Bottom Up, Join As You Go (JAYGO), Seamed, Worked In The Round
Time Required: A few days
Yarn Suggestions:
Yarn 
Bernat, Baby Blanket Sparkle (100% polyester, 220 yds / 201 m, 10.5 oz/ 300 g, CYCA# 6 super bulky) 
Color A: #71001 Moonlight Sparkle, 2 balls
Color B: #71008 Golden Sparkle, 1 ball
Color C: #71003 Sunshine Sparkle, 50 g
Color D: #71010 Seaside Sparkle, 50 g
Color E: #71009 Freesia Sparkle, 50g
Color F: #71011 Limeade Sparkle, 50 g
Color G: #71006 Hot Pink Sparkle, 50 g
Patons, Kroy Socks Yarn (75% washable wool/ 25% nylon, 166 yds / 152 m, 1.75 oz / 50 g, CYCA# 1 super fine)
Color H: #55008 Muslin, 10g
Color I: #55040 Coal, 10 g
Color J: #55741 Plum, 20 g